Here you will find waterproof vinyl tiles to stick on for the bathroom and kitchen!
The advantages of Fliesana tiles briefly explained:
(installation service offer request)
A new bathroom for 1399 euros in material costs!
Here you can see a bathroom renovation where material worth only 1399 euros was installed. Before installation, the floor joints were filled with FugoFill and aluminium profile rails were glued into the corners. The replacement of fittings, washbasins, wall cabinets and shower cubicle was done at the same time. After only 3 days, everything was done - see the transformation for yourself:
Easy Deinstallation of Fliesana at one customer after several years: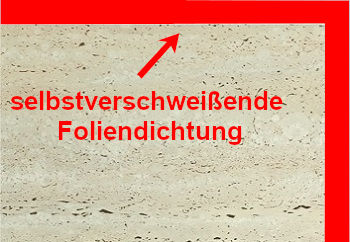 Only with an overlapping foil seal are they watertight and can be dismantled!
The patented, self-welding foil seal makes Fliesana® wall and floor coverings particularly suitable for damp rooms such as bathrooms or kitchens. You will also find the right decor for all other living spaces, which can also be installed in mobile homes or boats.



(order samples now)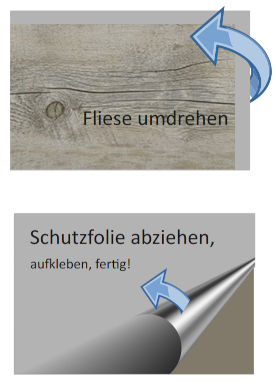 Developed for tenants
Are you a tenant or owner of a flat that is getting on in years, whose bathroom or kitchen now has unsightly floor or wall tiles? Then you will find the right solution for your "new home" here.
Adhesive tiles or planks are easy to install yourself - without noise, dust or debris.

Laying adhesive tiles yourself not only saves money, but also precious time. You can enjoy your newly created oasis of well-being after only a short time! Unlike tile paints or varnishes, our adhesive planks and tiles can be removed without leaving any residue.

Your advantages at a glance:
self-sealing foil seal
waterproof
self adhesive
easy deinstallation
warm to the feet
Impact sound insulating
Suitable for all living spaces
thermally insulating
Abrasion-resistant and pressure-stable
easy to clean
Suitable for underfloor heating
for wall and floor installation
easy to install
phthalate-free and recyclable


Important info:

Due to the current high order volume and long shipping times for all parcel services (approx. 5 working days), there may be delays in production and shipping for some decors. Our current delivery time is therefore approx. 7 to 10 working days. Thank you for your understanding.

From now on, you can easily and conveniently pay for your order in instalments with PayPal.

We now offer self-collection of your order at our office. Simply select "self-collection" as the shipping option and make an appointment with us by e-mail at einkauf@fliesana.com

... quickly ordered, quickly installed, quickly beautiful!

Please have a look at the feature about our super tile that was broadcast on MDR EINFACH GENIAL!


(Certification of installation companies)
Our advice
Specials
This text can be edited at Content Manager -> Free Content 2 in the backend.